We're on a Mission for coffee
We've set out to create the best tasting, freshly roasted premium coffee in the United States. Using only the highest quality beans, we take the time to roast every batch to perfection. Since day one, we've strived to stand out from the current coffee climate dominated by Dry Donuts and the Siren from Seattle. We don't want to have every flavor known to man in the risk of losing our quality. We just want to offer you a great cup of coffee.
Coffee By the Pound
Choose your preferred roast and texture and get the finest American roasted coffee delivered right to your door.
Load up now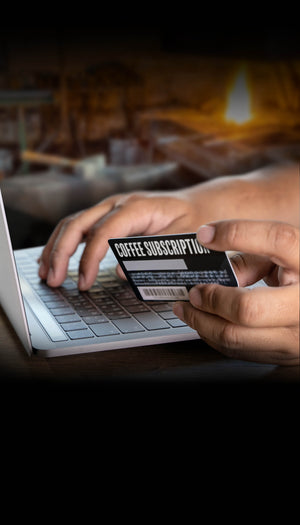 Coffee Subscription
Sick of running out of our coffee? Sign up for a coffee subscription to have the freshest coffee delivered to you on a recurring basis!
Get Started
Roasted to Perfection
There is a sizable difference between the regular ole big coffee companies and our batch roasters. Ours roasters protect the smooth strong flavor and aroma at a perfect temperature, while their use of closed drum roasters usually will burn their beans.
Made in America
As a BW Blacksmith customer, you can take pride that every freshly roasted batch of our delicious coffee is roasted here in the USA. So every dollar you send supports your fellow AMERICAN workers.
Fast Shipping
If we could, we would sling-shot your coffee straight out of the roaster and into your cup. So instead, we process every order as they come in and make it is our policy to get your order out as fast as we can using reliable carriers.
WHAT WE STANDS FOR
We are way more than another coffee company. We are a family, who has made it our goal to stay together through thick and thin. All of us at BW Blacksmith Coffee are here today because of this man.
SHOP OUR MERCH
Just like our coffee, we only offer the best! Choose from our wide variety of products and accessories. Choose from our ever-growing selection of great quality BW Blacksmith items to show your support that represents the hard-working Americans in all of us.
★★★★★

This is the most amazing coffee I have tasted! WOW!!

Barb Smith

Lake City, FL
★★★★★

Best coffee I've had in a LONG time.

Cameron Casto

Lake City, FL
★★★★★

Great people. Service is top notch. Hands down the best coffee around.

Anthony Sullens

Dahlonega, GA
★★★★★

I absolutely love BW BlackSmith and all their fabulous employees! They always greet you with a smile and hands down the best coffee I've ever had! They make my day better every single day!

Rae Jones

Fort White, FL
★★★★★

Oh Boy I love the Horse Shoe. Also the Hazel nut is very good. Very Fresh Coffee you can smell it when you open bag.

Ed Melcher

Billings, MT
★★★★★

Passing through the area on our trip, we decided to go a little further off the interstate for THE BEST COFFEE and we were not disappointed!

Christy Faber Walters

Sarasota, FL
Let customers speak for us